Richard J. Daley and "Da Bums"
Whether or not the electorate is
getting tired of "faggot, faggot"
, Republican politicians are not, apparently.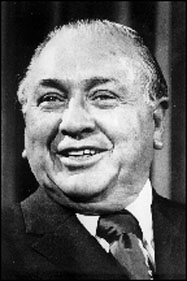 Senator Wayne Allard, Republican of Colorado, confirmed that Senate Majority Leader Bill Frist, Republican of Tennessee, will bring the "Marriage Protection Amendment" to the floor for a vote this year, in time for the November 2006 elections: "
Senator Bill Frist has indicated he will try to bring the Marriage Protection Amendment to a full vote again this year. [Senator Allard] believes that a constitutional amendment is the best way to make it crystal clear that marriage is between a man and a woman.
"
Well, good on you, Senator Allard. Far be it from me to suggest that your convictions have a lot more to do with cynically using queer folk as cannon fodder in the culture wars -- a religious wedge issue to fire up the Republican social conservative base -- than with "protecting marriage".
The late Mayor Richard J. Daley of Chicago used to have a term for Republicans -- "da bums".
It works for me.